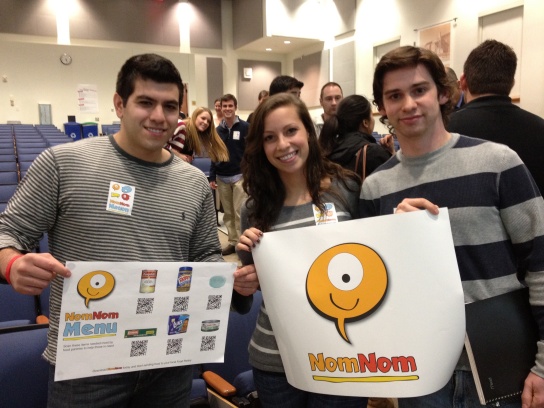 Startup Weekend is a 48 hour immersion into entrepreneurial business ideas, development, customer validation, market research, and branding.
Miami graphic design students Krista Adkins, Arianne Krekeler, Amy Lewin and Chelsea Nauman participated in Startup Weekend and were challenged with creating a business in 48 hours at the first and only Startup Weekend ever held exclusively for college students. While an incredibly daunting task, it was an amazing weekend filled with lots of coffee, little sleep, and an incredible amount of energy behind each of their ideas.
The weekend started Friday at 4:30pm where 60 second pitches were given, teams were then formed, and the rest of the weekend was based around developing each team's idea. Miami University staff and alumni mentored the students throughout the process, and the final presentations were held Sunday afternoon, where each team presented their ideas in front of a panel of three successful entrepreneurs from the Cincinnati area.
Out of 110 participants, only four were graphic design majors. Krista Adkins explains, "[graphic designers] were a hot commodity. People were rushing over to us to pitch their ideas, in hopes that we would join their teams."
Krista Adkins' group "Good Stuff" started out the weekend with an idea for a website which later transformed into a data networking widget. This widget could be placed on websites made by social enterprises to connect socially conscious consumers with charities and products of their interest. Krista says "Startup Weekend was such a unique experience. I'm not sure how we managed to get it all done, but it was really cool to see all of our ideas come together in the end!"
Arianne Krekeler worked on team "Pwason," a socially conscious fair trade uniform supplier. The idea of the company is to create a sustainable economy for developing countries by creating a partnership with the particular town that a school would purchase their uniforms from, starting with Dominica and Cincinnati. " I couldn't help but to work with this idea, I myself wore a uniform through high school and the idea of doing something good with the purchase of a necessary item really hit home with me" Arianne explains.
Amy Lewin and Chelsea Nauman's teams merged to create "NomNom," a mobile application that allows users to donate food to their local pantries remotely. "I found myself referring back to notes I had taken in class about flexible branding, developing prototypes, and making a "fun" aspect for users to connect with when doing interaction design" Amy says of creating the branding and application design for "NomNom."
"I found it really interesting, that of all 48 ideas pitched at the start of the weekend there were only four socially conscious business ideas. I also found it interesting and indicative that all of the graphic design students that participated chose to work with those four socially conscious options" Arianne surmises. Perhaps the students really were paying attention to speaker Andrew Shea when he visited last October and lectured on design for social change.
Nom Nom ended up winning first place this past weekend; their team plans to move forward working and developing their idea into a functioning product that they can pitch to The Kroger Company and apply for a non-profit grant before the end of the semester. "I couldn't be happier that I participated last weekend. It was an experience that you could never get from sitting in a class" Chelsea Nauman states.
Overall it was certainly a successful weekend, and a learning experience. All four graphic design student participants appreciate all the support from the graphic design community.
You can continue sharing your support by following each of the Startups on Twitter-
@NomNomNation
@TheGoodStuff_MU
@Pwason1
or like us on Facebook! https://www.facebook.com/NomNomNation