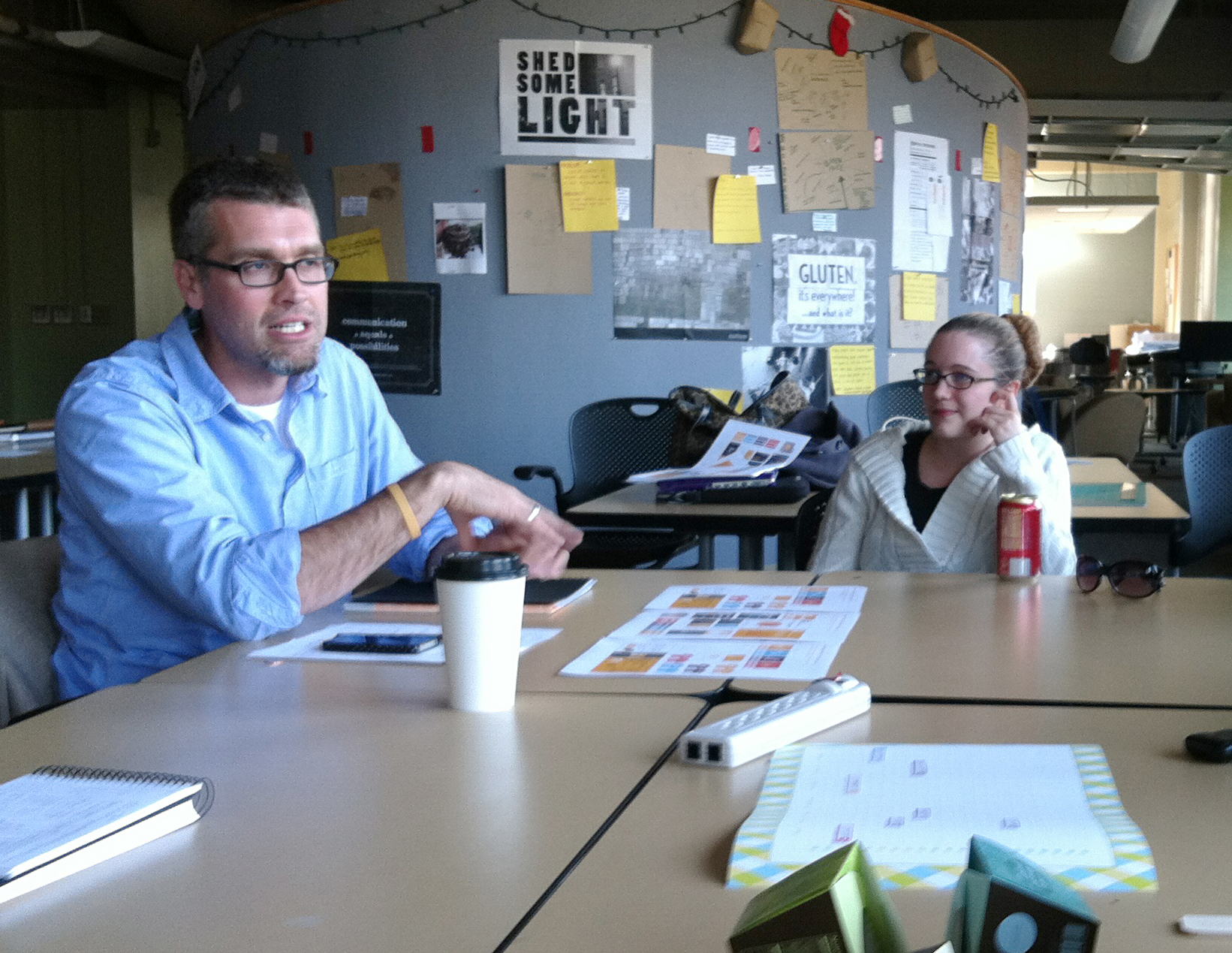 Miami's graphic design program happily welcomed alum Mike Weikert as our 2012 midterm senior thesis critic. Weikert is director of the MA in Social Design and Center for Design Practice at the Maryland Institute College of Art (MICA) in Baltimore. He critiqued senior thesis projects and gave a public lecture entitled: "What Do We Know About Social Design?" Thanks for a great visit, Mike!
In his lecture Weikert discussed the emerging field of social design and the lack of clarity and definition around it (not just in the context of the general public, but even within the field of design). Then he shared experiences from the inaugural year of MICA's MA in Social Design program. Examples were related to 5 objectives they've defined for the program:
1) Live and work in East Baltimore
2) Explore the designer's role and responsibility in society.
3) Produce new ways of thinking and facilitate new institutional collaborations.
4) Utilize design and the design process to bring about social change.
5) Develop contexts in which ideas and solutions can be sustained.
in addition to Weikert's role as director of the MA in Social Design and Center for Design Practice at Maryland Institute College of Art (MICA), he also runs Weikert Design, a Baltimore design studio, and Small Roar, a line of graphic baby clothes. Additionally, he is an advisor to Project M, an international social design initiative committed to helping young designers use their skills to create positive change in the world. Previously, he served as co-chair of the undergraduate graphic design department at MICA, partner/creative director at Atlanta-based Iconologic, and as a design consultant to the International Olympic Committee. He also worked as a designer with Pentagram, taught graphic design and branding at the Portfolio Center in Atlanta, and was nominated for the 2011 Cooper-Hewitt National Design Award.
His work has been recognized in several publications including: Baltimore Magazine, Communication Arts, GOOD Magazine, Graphic Design USA, Graphis, How International Design Annual, How Interactive Design Annual, Identity, Print's Regional Design Annual, Show South, Typography 24, and Urbanite Magazine and design books including: Design Alliance, D.I.Y. Design It Yourself, Graphic Design, Referenced: A Visual Guide to the Language, Applications, and History of Graphic Design, Graphic Design: The New Basics, Graphic Design Thinking: Beyond Brainstorming, Just Design: Socially Conscious Design for Critical Causes, Print's Best Invitation Design, Print's Best Logos & Symbols 6, The Nature of Design, The Olympic Image, and White Graphics.
MASD blog links of interest to students:
MASD blog portal into each student's thesis work and experience in the program:
http://micasocialstudio.com/
Weikert's blog providing a weekly re-cap of the MASD program and its activities:
http://thisisthesocialstudio.tumblr.com/
An overview of all the visitors, lecturers, etc. that they've brought in to inform the students and curriculum:
http://friendsofthesocialstudio.tumblr.com/