Internship
One Student Internship. 10 Weeks. Rockfish Interactive.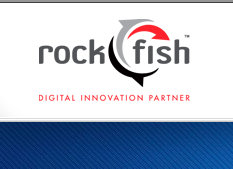 by Lauren Romano (senior)
Over the summer, I had a 10-week internship as a creative intern with Rockfish Interactive in Cincinnati, Ohio. I worked with two other interns—one strategy and one marketing—to develop a Media Kit for Amos Publishing. Right away, we were thrown into a project with a client of our own within the Agency, which was a very beneficial experience.
We spent about two weeks researching and brainstorming the different opportunities to bring to Amos Publishing's publications Coin World and Auto Enthusiast. At our first meeting, we pitched our ideas to the client, which involved a Media Kit PDF, two separate Media Kit websites, and an iPad app. Our final deliverable after 10 weeks included thePDF, the websites, and optimizing the websites in HTML 5 for the iPad.
Overall, working with Amos Publishing was a great learning experience in how to work with a real world client. Throughout my internship, Rockfish really made us a part of their company, allowing us to participate in writing RFQ's, working with our own client, as well as helping out with current clients of Rockfish. I was able to not only design a Media Kit for Amos, but also some banner ads, and was able to contribute to an iPad app currently in development for other clients as well. Rockfish was a great company with to get involved with, with awesome employees and from day one really made sure you were treated as an employee of the company, not just an intern.
Some tips for a successful internship:
Never be afraid to ask questions: The more questions you ask, the more you learn!
NETWORK! Don't be afraid to call up an executive and interact with them. Some of the best advice I received was from meeting with other higher ups in the company.
Be Social: Rockfish always had a lot of fun events to participate in, and the more you go to, the better you get to connect with employees, not just work with them.
Don't be afraid to ask for extra work: If you're having some down time, ask around for other work or see if anyone needs any help. Everything you work on gives you a great idea of what the company is like.
HAVE FUN! Really enjoy your internship because it could be a place you want to see yourself become a part of after graduation!