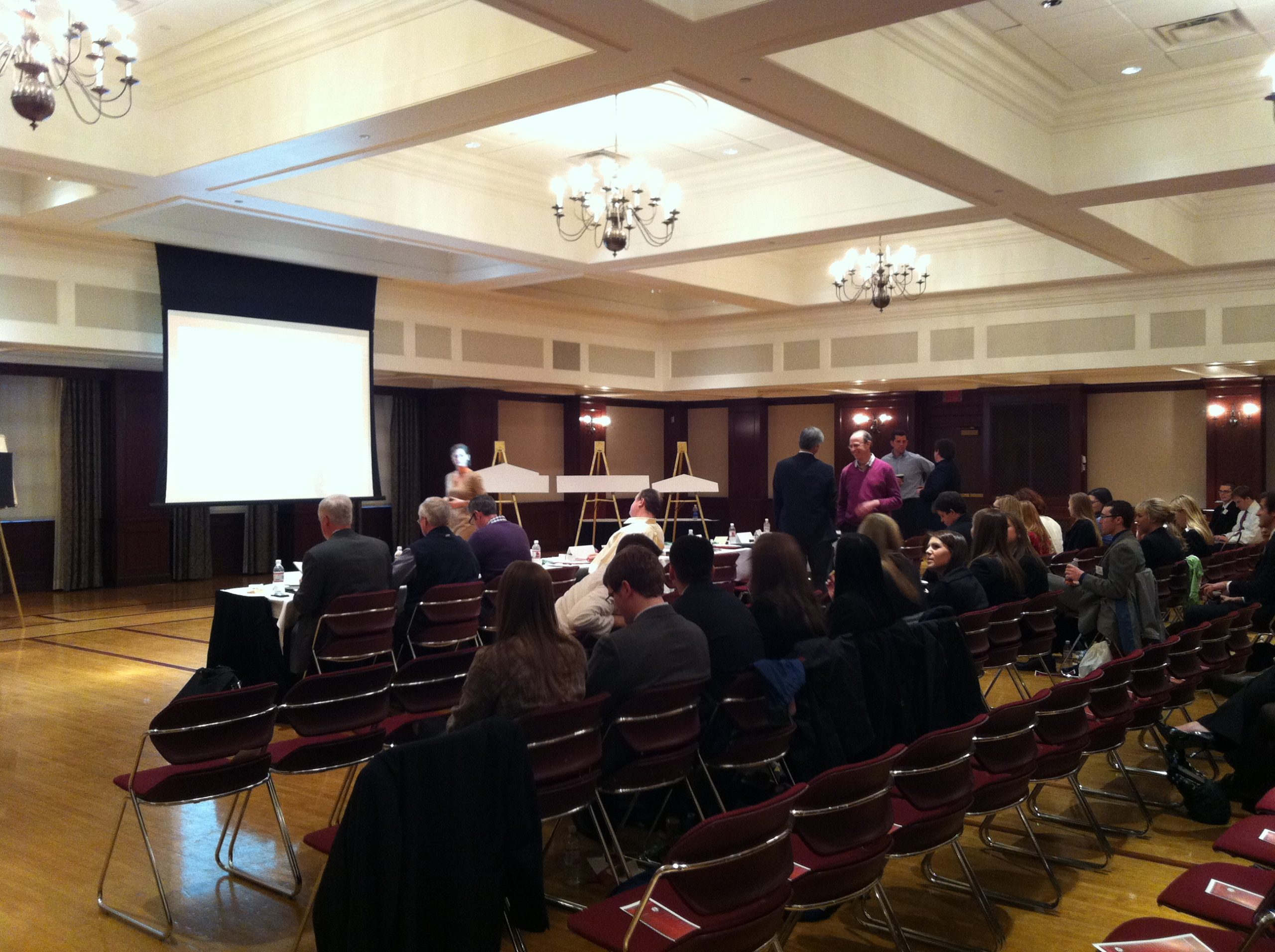 Yesterday, students from the Highwire Branding Studio, a joint venture between the Miami University's Graphic Design and Marketing programs, held their end of term presentations, showing off their final marketing and branding solutions to members of the Kroger, Purina PetCare, and dunnhumby companies. After hours of deliberation, and weeks of anticipation, the panel of professionals voted and determined that of the three very different solutions, the ideas of Team C presented the best overall outcome.
Early in September, students were challenged by Purina PetCare to develop recommendations for developing and implementing a Customer-First approach to in-store marketing of Purina products in Kroger stores. The students  then divided into three teams, each containing a good mixture of design and marketing students, with additional university majors and double-majors joining. Combining their academic understandings of design, marketing, philosophy, education, and psychology, each team worked diligently on their own interpretation of the client charge, developing comprehensive solutions to meet the challenge.
Issues of target market demographics, return on investment opportunities, branding equity, and modular design were all considered within the course of the studio design process, with many creative ideas discussed, thrown out, regathered, and finally organized into a unique and comprehensive solution.
To address the charge, Team A looked at using a sensory approach to attracting and keeping customers within the store aisles, while Team B focused on a more interactive media solution to the project. But in the end, Team C's home-like branded aisle application seemed to resonate more clearly with the audience of professional judges, winning the final votes.
Congratulations to Team C members for their win, and to all Highwire Fall 2012 participants for their hard work and professional quality results. And a special thanks to Dr. Timothy Greenlee of the Marketing Department for all of his guidance and assistance throughout.
TEAM A
Jessica Horton, Marketing Director
Michael Pelagalli, Research Director
Haley Biel, Creative Director
Chad Delk
Erin Killinger
Rob Kolmin
Colleen Leimkuehler
Arden McClain
Michelle Strahine
Kristen Yagley
TEAM B
Matthew Sutter, Marketing Director
Stephanie Hiller, Research Director
Jason Walters, Creative Director
Megan Adams
Kayla Briggs
Jason Carter
Pat Kelly
Andrea Schepel
Sara Shadowen
TEAM C
Cam Cimala, Marketing Director
Kelsey Anderson, Research Director
Emily Drumm, Creative Director
Amy Baker
Lindsay Becker
Dan Ducharme
Holly Honroth
Maggie Maher
Brad Mulvey
Jennifer Rezac