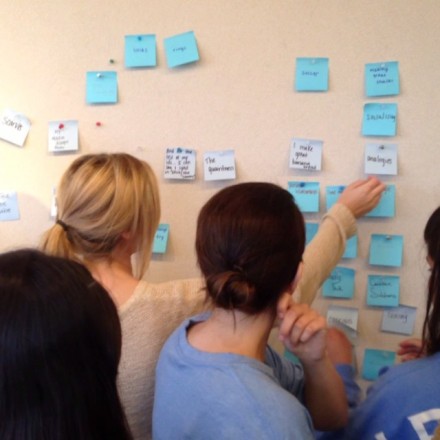 We've been busy preparing for the 2012 senior year. This year, thesis projects will have a general theme of "Design for Social Impact." To support this concept, we are bringing in exceptional speakers/critics to work with the seniors.
Andrew Shea will come in October. Andrew is a designer and writer located in New York City. His new book Designing for Social Change: Strategies for Community-Based Graphic Design will be out this fall. He is going to do a workshop with seniors in Peg's class to help formulate thesis concepts. He'll also give a lecture about the general topic of designing for social change and, hopefully, be inspirational to all.
In the spring we have two fantastic critics coming.
The first is Mike Weikert. Mike is director of the MICA's MA in Social Design and Center for Design Practice and a graphic designer with a thriving professional practice. He runs Weikert Design, a graphic design studio, as well as Small Roar, a line of graphic baby shirts, with his wife Stephanie. He is also partner of Piece Studio, a socially focused design initiative. The previous co-chair of the College's graphic design department, Weikert was creative director at Atlanta-based Iconologic and served as a design consultant to the International Olympic Committee. Mike is also a Miami University graphic design alum.
Mike will serve as midterm critic for thesis projects. He will bring with him a wide range of experiences to share and, just as importantly, he is lots of fun.
The final thesis critic will be Ellen Lupton. She is curator of contemporary design at Cooper-Hewitt, National Design Museum in New York City and director of the Graphic Design MFA program at MICA. An author of numerous books and articles on design, she is a public-minded critic, frequent lecturer, and AIGA Gold Medalist.
For those of you unfamiliar with Ellen, she is one of the top designers/writers/critics in the country. She will critique final projects and give a lecture for all the design/art students.
We are all excited to get this year started!