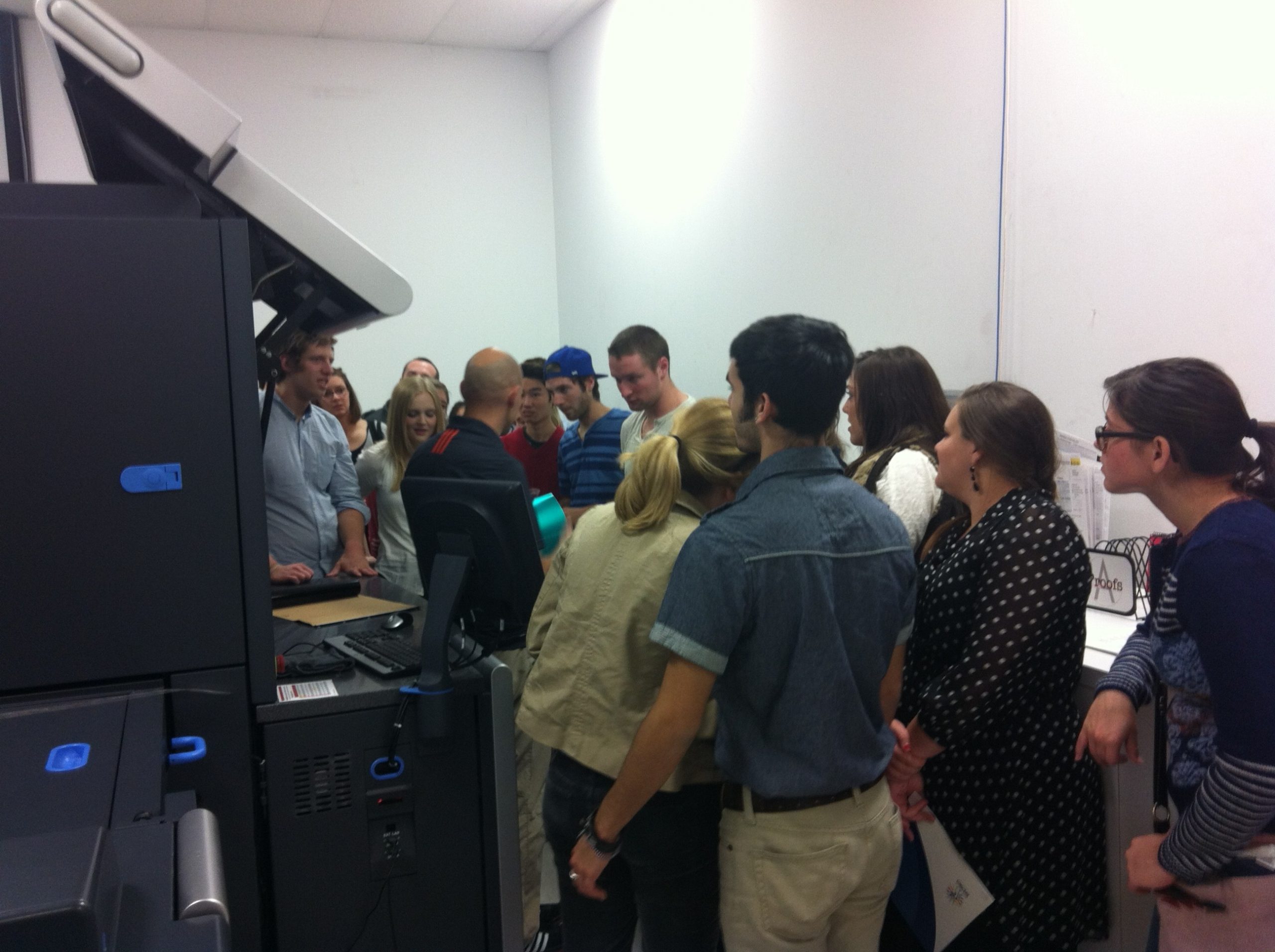 On Wednesday, October 17th, the third year Business of Design class took a field trip out to Cincinnati's Arnold Printing, near Lunken Airport. Arnold Printing is a family owned and operated printing company, in business for over 100 years, and while the business of printing has changed within their tenure, it's obvious that Arnold's commitment to quality and education has not.
Co-owner Tim Arnold took over an hour out of his busy schedule on the 17th to meet with our students, beginning with a very compressed overview of what services are provided in-house. He admitted that technology tends to change with a blink, and that to keep pace, Arnold Printing has had to adapt with the times, providing more than printing, but well-rounded strategic deliverables for their clients, including fully-customizable printing options that can be changed to match new customer data.
During the visit, Mr. Arnold led the students in and around their large facilities. Demonstrations of more traditional off-set printing started the show, as students marveled at just how fast sheet-fed offset printers can work.
Other services offered by Arnold Printing include full-scale finishing, such as trimming, saddle-stitching, and custom die-cutting.
The tour concluded with an in-depth look at Arnold Printing's relatively new HP Indigo 7500—a massive digital offset machine purchased just last year. This particular machine is capable of producing hundreds of prints in just minutes, and requires far less set-up than the traditional offset color equipment.
Students were given an opportunity to watch as the machine printed various items with wizard speed, as well as see examples of previously printed materials on a variety of unique surfaces.
So a special thanks to Tim, Casey (pre-press), and Jason (HP Indigo operator) of Arnold Printing for their time, and especially for sharing their wealth of knowledge with up and coming customers.