News
Participate: Designing with User-Generated Content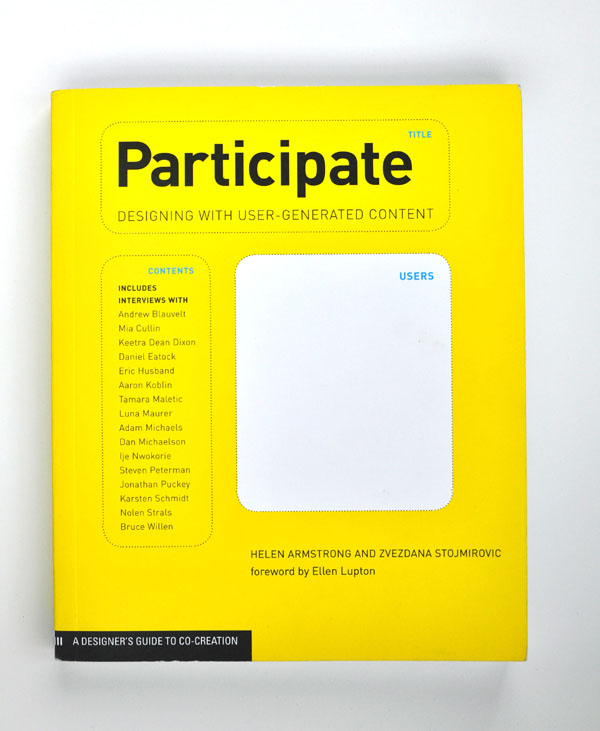 It's here. My new book, Participate: Designing with User-Generated Content, is now available (Princeton Architectural Press, 2011). The book's companion website is participatorydesign.net This book, co-authored by MICA professor Zvezdana Stojmirovic, looks at ways that designers are engaging users in the creation of their work.
As non-designers busily create, designers too must get creative. Prime players in contemporary culture, designers understand that major paradigms of production and distribution are shifting. More and more they are asked to create tools, templates and resources for their clients and other users to implement. They need ideas for harnessing user-generated content while maintaining their own status as professional designers.
Participate considers historical and contemporary models of making that provide just such ideas. Of particular interest are designers who use systems thinking to establish carefully regulated structures through which other users might create. Part theoretical exploration and part how-to manual, Participate challenges designers to transform audiences into users and completed layouts into open-ended systems.
In my own classroom, I find the discussion turning increasingly to ways that students can encourage user participation in their projects. Prospective employers want to see some experimentation in this direction. Participate would make a great textbook for generating fresh discussion in a graphic design or interactive media class, but it also has a wider appeal—students, young professionals and mature practicing designers. Participate addresses the following crucial question: how can designers lead the new breed of widely distributed amateur creatives rather than be overrun by them?
---
Participate includes interviews with Steven Peterman, Daniel Eatock, Adam Michaels, Eric Husband. Aaron Koblin, Jonathan Puckey, Mia Cullin, Tamara Maletic, Dan Michaelson, Ije Nwokorie, Andrew Blauvelt, Bruce Willen , Nolen Strals, Keetra Dean Dixon, Luna Maurer, and Karsten Schmidt. It also profiles work from Miami University students and students from MICA.
Special thanks to all the designers who contributed work to the book.