Five months into her cross-country adventure, Kyle Durrie and the Moveable Type truck made a stop at Miami for a day of printing on wheels. Parked between Hiestand Hall and Shriver Center, students, faculty and Oxford community members gathered outside the truck, awaiting their chance to step inside and try their hands at letterpress printing inside a one-of-a-kind 1982 Chevy step van.
The crisp, Fall afternoon was filled with a constant flow of people interested in learning more about the Moveable Type project and the art of letterpress printing. Letterpress, a traditional method of printing invented by Gutenberg in the 1440's, has made a resurgence, partially thanks to Martha Stewart's promotion of hand printed wedding stationary. More so, graphic designers and artists are drawn to the process, putting together the movable type to create something with their hands instead of on a computer screen.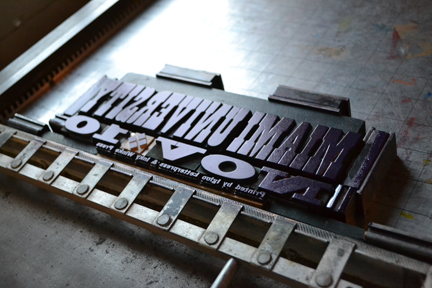 A member of the new generation who love the character and life of letterpress, Kyle took a class, fell hard for it, learned the craft as an apprentice and established her own company, Power & Light Press  "which was met with surprising and overwhelming support and success." She outfitted the back of the truck with built-in cabinets, workspace and a "few thousand pounds of lead, wood, iron, and love."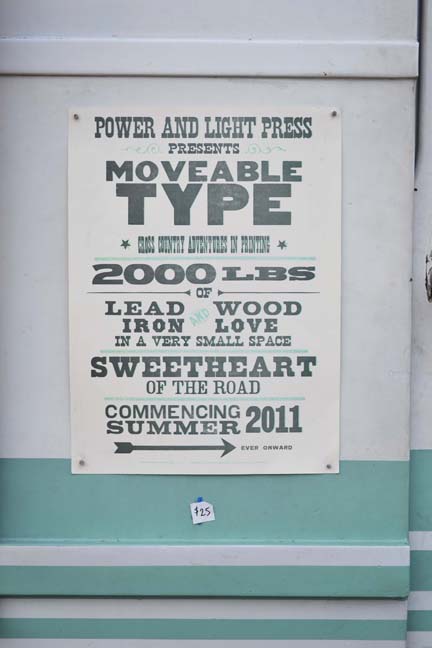 Oxford visitors to the Truck hand inked vintage wood and metal type on a mid 20th century sign press to print the third color of an "Ohio Loves Letterpress" limited edition poster created for Moveable Type's visit. Igloo Letterpress (Columbus) and Inky Winke Press (Hand Media instructor, Erin Beckloff) collaborated on the poster, promoting "Unity in the Print Community."
Kyle presented her project as part of the art281 Artist Lecture Series, followed by a large group cramming into the warm, cozy Truck to pull a few last prints.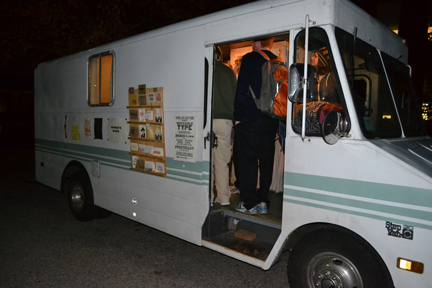 Many thanks to everyone, including the numerous Art faculty, who came to print posters in the Truck. Miami's Curmudgeon Press namesake Tom Effler seemed particularly enjoy the experience.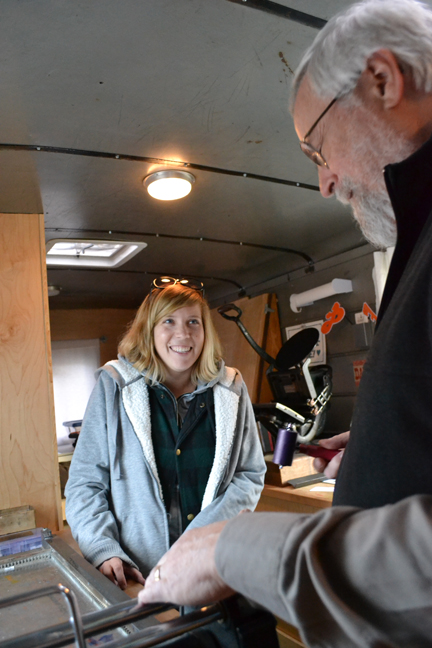 To follow Kyle and the Truck's journey as she teaches workshops, does demos, and, "generally spreading the good word about printing the old fashioned way," visit: http://type-truck.com/