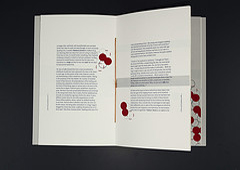 Digitizing a text divorces it from a fixed reality. These dematerialized words float in cyberspace waiting for someone—anyone—to assign form. Organizations like Project Gutenberg have made digitized public domain texts freely accessible. Mechanisms like the Expresso Book Machine, courtesy of  NYC's McNally Jackson bookstore, give users the ability to materialize previously inaccessible out-of-print texts in a matter of minutes.
Miami design students experimented with this new phenomenon in my typography class this semester. Each student chose a favorite classic novel that fell in the public domain, downloaded it from Project Gutenberg and then created his/her own custom edition.
Questions raised by the project were two-fold:
How can designers—or any member of the public for that matter—take advantage of this new text accessibility? What does it mean to publication design when each reader can produce their own custom layout?
What is the future of the book? If the majority of texts move to a digital form, how will physical books be redefined? Will they become treasured artifacts? What unique opportunities do physical materials like paper and ink provide a designer?
Sample Student Work:
Crime and Punishment by Fyodor Dostoyevsky, design by Katie Stewart
==============
A Christmas Carol by Charles Dickens, design by Erik Seyferth
==============
Around the World in Eighty Days by Jules Verne, design by Jarrett Bowling
==============
Grimm Fairy Tales by The Brothers Grimm, designed by Sam Childs
==============
Pride & Prejudice by Jane Austen, designed by Colleen Griffiths
==============
Through the Looking Glass by Lewis Carroll, design by Andrea Fiegel
==============
Check out the rest of the projects on Flickr.