Student Project
Katie Scott Wins Provost's Student Academic Achievement Award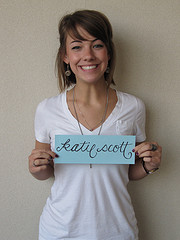 Junior graphic design major/IMS minor Catherine (Katie) Scott was awarded the 2012 Provost's Student Academic Achievement Award. There is a committee that reviews various materials from each nominee including two nomination letters, transcript, and a resume. An excerpt from one of Katie's recommendation letters read:
"This year, I have had the privilege of having Katie in a studio class, ART352 Identity and Information Systems, and I have reviewed her design work on several occasions. Her work is always very intelligent, detailed and thoughtful. She consistently meets, or exceeds, the expectations put before her and she's always looking to answer a problem completely and concisely. Last year, I had Katie in CFA111, Innovation, Creativity and Design Thinking. This was an 80-person seminar class that involves several group projects. Katie was a leader in the class. As an honors student she participated in a special project as part of her honors hybrid. This required her to do extra and more complex work, which she is eager to complete to her best ability.
Katie has also worked as a designer in several different co-curricular environments. She has worked with or is working with the Crucible Magazine, the Miami University Interdisciplinary Technology Development Challenge, and Pi Sigma Epsilon Business Fraternity. This work giver her added leadership, communication and design skills to complement the work she does in class. Katie has also been involved in honors/leadership opportunities as the Academic Chair of Alpha Lambda Delta Honor Society and the Wilks Scholar Leader Program. For the Wilks Leadership Institute she has also worked as their graphic designer, doing a variety of print work, including pieces for their national conference."
Congrats to Katie! Everyone in the design program is very proud of you!