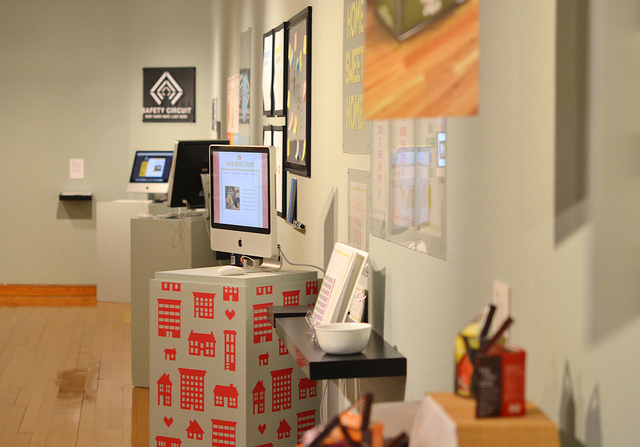 The Miami Graphic Design Program capped off the 2011-2012 year with a reception in honor of our BFA senior thesis exhibition. This year's exhibition theme: Juncture: Where Design Meets Social Change. Many thanks to our 2012 thesis critics: Mike Weikert and Ellen Lupton.
Here's a taste of this year's projects:
---
Jinghang Huang
A New Brand and Signage System for the Miami Bus System
Design Problem: A confusing, unclear signage system for the Miami University bus system.
Target Audience: Miami students, faculty and staff
Solution: A new brand designed to excite students about riding the bus. Magnetic bus signs that make buses easily identifiable by route. A revised pocket size map and brochure, as well as a new website and handy app for understanding bus routes and pinpointing the location of approaching buses.
---
Kristen Whaley
Leave No Trace Backpacking Kit
Design Problem: How to teach first time backpackers about the Leave No Trace Principles in a way that makes them want to take ownership of their actions?
Target Audience: First time backpackers
Solution: A first time backpacking kit. This kit makes it easy for novices to plan and properly equip themselves to leave no trace while hiking. The kit includes various checklists and planning guides, as well as a waterproof containers useful for upholding the principles. As part of the system, a series of icons make the Leave No Trace principles more memorable. These icons are printed on the back and explained in more depth in detachable waterproof cards.
---
Emily Drumm
My Daily Label Nutritional Tracking and Labeling System
Design Problem: Consumers find it difficult to understand current nutritional labels.
Target Audience: Consumers who care about their nutritional intake, but are unsure how to read current labels.
Solution: An alternative nutritional labeling system. Using the My Daily Label app, consumers can scan products and then use the new labeling system to better understand the nutritional value of the product. If the item is eaten, consumers can enter the scanned information into a personal database that builds daily and weekly visualizations of their nutritional intake, helping them to track and optimize their diet.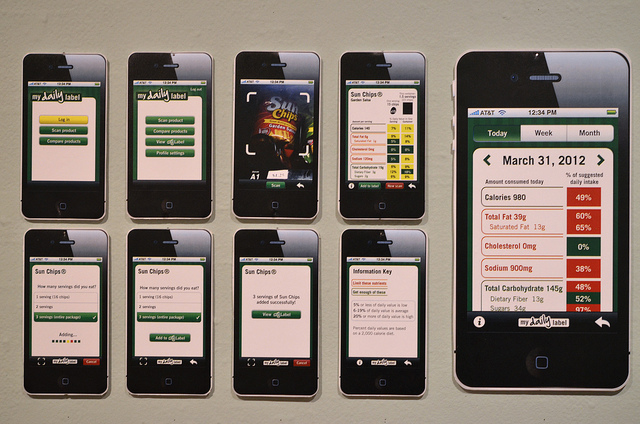 ---
Molly Mackin
Home Sweet Home Pet Adoption System
Design Problem: Potential adopters have developed negative perceptions about shelter organizations, and shelter organizations are wasting educational resources. How can a potential pet guardian's experience adopting be more positive and educational?
Target Audience: First time pet owners and animal shelters
Solution: A comprehensive adoption system that encourages shelters and potential pet owners to partner in an attempt to find animals appropriate homes. The system includes a calendar worksheet to be filled out by adopters with help from shelter workers, a pet care template to be used first in the shelter and then taken home for the animals first weeks in a new home, and a website that helps potential pet parents find more in depth information about the program and pet care. These items are branded with the Home Sweet Home concept.  Cross stitching elements give the materials a warm and familiar feeling and help eliminate any previous misconceptions of a shelter's inaccessibility. Wordplay taken from traditional sampler proverbs develops the idea further and appears on a poster series designed for in shelter use.
---
Lauren Romano
Fibromyalgia Workout Kit
Design Problem: How can I help improve the everyday life of people living with Fibromyalgia by utilizing exercise?
Target Audience: People living with Fibromyalgia
Solution: Create a workout package and community program for Fibromyalgia patients, helping them feel better every day. Package includes a physical daily tracker and poster series of exercises, as well as an app and website to promote mobile use and community.
===========
Colleen Yates
LET: Let's Learn Together Visual Schedule
Design Problem: Create a product that will help children with autism understand the sequence of events throughout the day.
Target Audience: Parents and educators working with autistic children, particularly pre-school through primary school age.
Solution: Create a visual calendar kit for the classroom and for home to help autistic children understand the sequence of activities they following throughout the day.
---
Kara Isabella
The Neighbor to Neighbor Campaign
Design Problem: Help alleviate the effects of growing poverty in Olmstead Falls, a suburb of Cleveland, Ohio.
Target Audience: Residents of Olmstead Fall, Ohio.
Solution: A campaign designed to drive home that supporting The Neighbor to Neighbor Campaign will directly aid people in need that residents encounter in Olmstead Falls each day. The campaign includes a website, direct mail and poster campaign.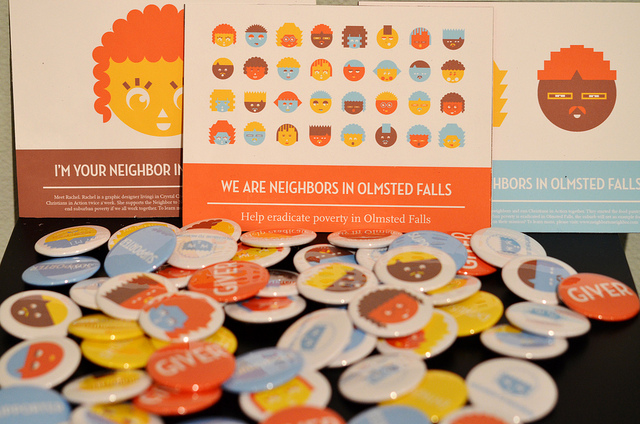 ======
Thesis Exhibition