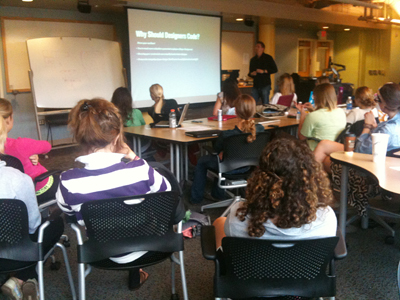 On Wednesday, Matt Radel, Director of Interactive Design at Global Cloud, shared his interactive expertise with Graphic Design Juniors and Freshman. Matt is a Graphic Design graduate from the class of 2004 and currently leads a team of interactive designers on client projects and product development at Global Cloud. Global Cloud was co-founded in 1997 by another Miami Graphic Design graduate and is a web-based software and design agency in downtown Cincinnati known for DonorDrive (www.donordrive).com, a suite of tools designed to help non-profits fundraise online.
According to Matt, the design thinking skills he learned in the Graphic Design program, as well as the interaction principles he learned through AIMS have set him up for success at Global Cloud.
As an interaction designer (and now design manager), Matt stressed that designers must know their medium and, for interaction design, must know how to code.
Here's Why:
You're much more valuable to potential employers
Knowing your constraints can actually lead to better designs
Protect the integrity of your design
Matt also urged students to pursue work that matters and used his experience working on software for non-profits as a case study. Finally, he did desk critiques with Juniors giving them feedback on interaction design projects they were working on.