Exhibition
Crowdspeak: A Co-created Project/Exhibition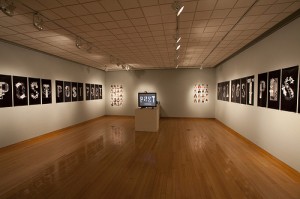 A design experiment led by Helen Armstrong, Miami University, and Zvezdana Stojmirovic, The Maryland Institute College of Art.
To structure this cross-institutional project, we created a framework populated by a diverse set of students. The word POST emerged as our theme. Working in cross-institutional groups, each student began a formal exploration of an assigned letterform and then passed it along to others to complete. Forming a digital assembly line,students worked concurrently on each of the final letterforms.
As the project developed, a team of MICA student editors fused together each stage of development into a short animation. The finished piece captures the evolving cocreative process. The experiment exists in two phases. In the first phase, students explored the letterforms formally. In the second phase,  they reflected on the meaning of POST as aftermath, crafting the letterforms into images of obsolescence. This project inspired students to think beyond their own classroom to emerging forms of cocreation and encouraged them to celebrate individual voices and perspectives.
POST follows our less linear experiment from Spring 2010, LINKED, which involved 57 students from Miami and MICA, many of them non-design students.
=======
Phase One
Phase Two
=======
In fall 2010, Crowdspeak was exhibited first at the Miami University, Hiestand Gallery, and then traveled to the MICA Brown Center in Baltimore.