These days it's not a good idea to go to the Interdisciplinary design studio with an empty stomach. Conversations about pumpkin and squash lasagna with cream sauce and sage oil, flank steak topped salads, and gooey chocolate cast iron skillet cake can be overheard as students plan their organic, locally sourced menus. Composed of architecture, interior design, and graphic design students (ART 354: 3-Dimensional Design and ARC 304) are working together as interdisciplinary "firms" to compete on the 2013 Retail Design Institute International Student Design Competition. This year the project is a prototypical restaurant concept; a perfect catalyst for bringing together the three disciplines. The "challenge looks to develop a new health conscious and locally sustainable restaurant concept" which has led to walls of mouth watering food and design imagery being pinned up in the studio.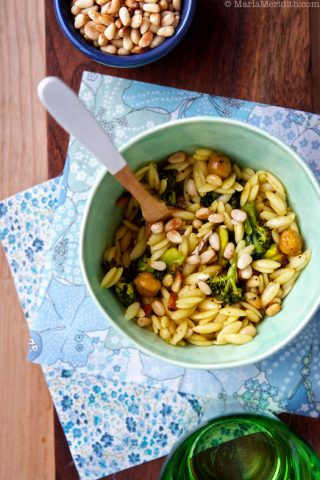 Last week, firms had an interim review receiving valuable feedback from outside critics including Market Leader for the Hospitality Studio of FRCH Design Worldwide, Tom Horwitz; Miami U. architecture and interior design faculty; University of Cincinnati PhD and Masters candidates; and a menu engineer with 30+ years of culinary experience. Students are currently synthesizing the feedback they've received and finalizing the details of their plans, developing perspectives, signage, wayfinding, interior materials and all the branded elements for their restaurants. Final projects will also include a film about their firm formation, marketing and branding strategies, and a glimpse of the teams collaborative design process.
Final restaurant projects and other interdisciplinary work can be viewed at the Spring 2013 Architecture + Interior Design Department Show the evening of Friday, May 3 at Alumni Hall.
Featured Image: Rosemary Roasted Carrots
Orzo Broccoli Chickpea Pasta recipe