Communication Design Major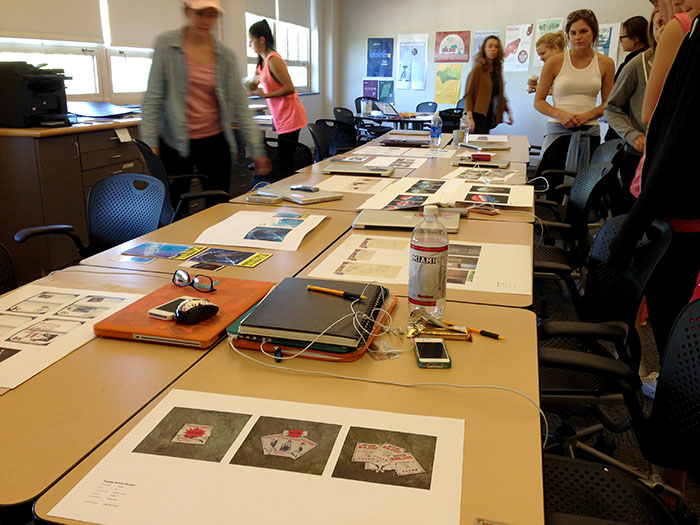 The mission of the Communication Design Major is to enable learners to gain the design thinking, knowledge, and skills required of practicing designers in areas like communication design, user experience design, and branding. Learners grow these competencies through exercises, projects, and learning experiences designed to develop practical, analytical, creative, emotional, and social intelligences. Graduates are prepared to enter a wide range of design practices as adaptable problem solvers that consider context and stakeholder needs as drivers for design.
The Major in Communication Design at Miami is a B.F.A. degree program, with a rigorous curriculum that prepares learners for a career in design. At Miami, Communication Design Majors can:
Participate in a small, supportive student cohort.
Enjoy 24-hour access to their own recently renovated design studio.
Thrive in a liberal arts environment, graduating as an adaptable, highly marketable individual.
Co-major, double-major, or minor in our unique Interactive Media Studies program or choose between Miami's many other minor and double-major options.
Mix hand media skills like letterpress printing with various digital approaches.
Acquire valuable professional experience through paid internships within leading firms.
Gain insights and inspiration from visiting designer lectures and workshops.
Take advantage of innovative fabrication equipment like laser cutters, 3D printers, a CNC lab, and a 3D visualization lab.
Experience working on projects for clients and organizations in interdisciplinary studios, special projects, and study abroad programs.
With a problem-solving format, students develop visual communication skills, explore the integration of type and images through a variety of traditional and digital media, and imaginatively deliver messages responsive to the needs of users. Students learn to be aware of the cultural context in which they work, keeping in mind the responsibilities inherent in a discipline that engages society.
Portfolio Review
In addition to the entrance portfolio review required by the department, a communication design portfolio review is required toward the close of the first year, including work from the foundations program. Access to upper-level communication design coursework includes portfolio submission and selective interviews with the intention to major in communication design. A limited number of students are admitted each year. Probationary acceptance may be extended to some students; this means their work and performance are evaluated by the faculty at the conclusion of both semesters of the second year. The evaluations determine continuance in the program.
Students who are designated as Communication Design pre-majors (those who have gone through a preliminary departmental review), College of Creative Arts undecided students, other Miami majors or external transfer students submit a communication design portfolio in April of the spring semester. For the majority of the students, this is at the close of their first year. Communication Design faculty review these portfolios and then interview potential applicants to the program.
We accept no more than 24 students a year. Students who are not accepted can reapply the following year. Many of these returning applicants build their portfolios further and are accepted that next year.
Here's the thinking behind this system:
Because we accept no more than 24 per year, studios maintain a strong student/faculty ratio and we are able to guarantee placement in all required design courses.
Waiting a year to evaluate work gives all students a chance to build their portfolios, regardless of the strength of their high school art programs.
If a student either does not get into the communication design program or decides to major in something else, art courses are taken during the first year at Miami can be applied toward another major, either as electives or required courses depending on the major.
Some schools handle the need to limit studio size differently. They accept students directly into graphic design programs but then cull extra students out through excessively rigorous coursework their freshmen year. We don't agree with this philosophy. Students who don't make it through the first year at such schools end up with wasted course credits, poor GPAs, and low spirits.
Course Requirements for Application
Visit the Communication Design Program Page on the Miami University website for requirements.
How the Application Process Process Works
The application process is a two-stage process consisting of a first-round screening review and the second round of personal interviews. Students will submit their portfolios, including work from Foundations art courses and ART151, other work, and a current Degree Audit Report (DAR). Portfolios must be submitted digitally as a Behance website. A link to the site must be provided and a PDF of the applicant's DAR uploaded via the online portfolio submission page.
Submit a Portfolio: Portfolios are evaluated by the Communication Design faculty in online submission and closed screening.
Sign Up for an Interview Time (accepted applicants only): Applicants who are selected to continue will be sent a sign-up sheet to participate in the Interviews with Communication Design Faculty.
Interview: The 15-minute personal Interviews will take place on Zoom during specific time slots indicated on the sign-up mentioned above.
Results: Notification of acceptance status will be by email from the Communication Design faculty no more than a week after interviews are completed.
Outcomes of the Review
Current communication design pre-majors accepted into the program will attain full status as BFA Communication Design majors.
Current BFA studio majors or Art Education majors accepted into the program will have their status changed to BFA in Communication Design.
Students classified as College of Creative Arts Undecided, non-major Miami students, and external transfer students who are accepted into the program will be reclassified as BFA in Communication Design and will not be required to participate in the Department of Art's BFA Transfer Portfolio review.
The faculty in Communication Design will provide applicants who are not accepted with a PDF of the portfolio and/or interview evaluation scores and feedback.
Current Pre-Communication Design majors not accepted into the program will be reclassified as BFA Studio Majors for advising purposes.
The faculty in Communication Design may make recommendations to the Department of Art's Undergraduate Admissions Coordinator on behalf of College of Creative Arts Undecided students, non-major Miami students, and external transfer students not accepted into the Communication Design program to be granted BFA Studio degree status.
College of Creative Arts Undecided students, non-major Miami students, and external transfer students not accepted into the Communication Design program and not granted BFA studio status may obtain BFA studio status by participating in the BFA Transfer Portfolio in the next academic year.
For students not accepted for admission to the Communication Design program, we recommend students meet with a design faculty member.
Questions about the Application Process should be directed to the ART151 instructor.
Transfer Admission
Students who wish to transfer from another institution and enter this program must satisfy admission requirements of the communication design program in addition to those of the Department of Art and university.
Computing Requirements
Hardware
Apple MacBook Pro – Laptop Computer
15‑inch display
2.2GHz quad-core Intel Core i7
At least 16GB of Memory (RAM)
At least 256GB flash storage (solid-state hard drive)
Thunderbolt digital video output (for connecting to external monitors)
Software
Adobe CreativeCloud Subscription
Make sure to get student pricing when you sign up. We use Photoshop, Illustrator, InDesign almost daily.
Courses and Requirements
For more information about the Major in Communication Design curriculum and requirements, visit the Miami University website Communication Design Major web page.
The Miami University Bulletin series is the official source of information about the programs and courses of study offered at Miami University.