Workshop
WordBuild: A Workshop in Participatory Design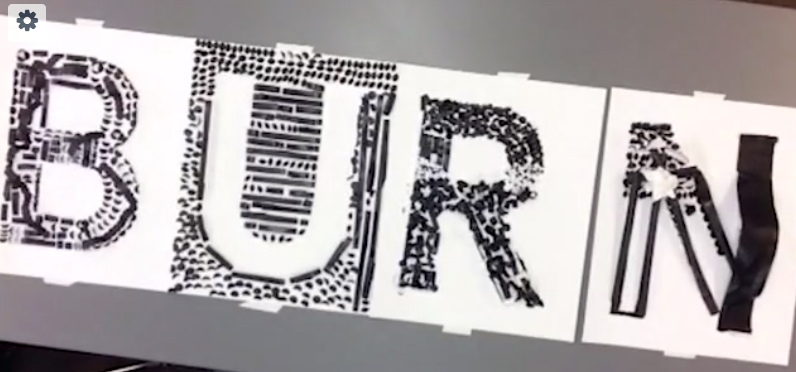 Participatory Design, over the last 40 years, has begun to infiltrate mainstream commerce and culture in the US. Increasingly our always-on, instant feedback society of users demands a voice in the products, services and environments in which they engage. Many businesses recognize that without user-generated content, they cannot respond quickly and accurately enough to satisfy user needs.
Participatory graphic designers embrace user-generated content by scaffolding acts of amateur creation. At the invitation of Miami U Graphic Design alum Kristen Myers (a current MFA in Communication Design student at Pratt)  Helen Armstrong, Assistant Professor of Graphic Design at Miami University and Zvezdana Stojmirovic, Professor of Graphic Design at MICA, explored one technique for engaging users in the design process during a recent workshop with MFA CommDesign students at the Pratt Institute in NYC.
---
WordBuild: A Workshop in Participatory Design
Oily, Fuse, Silo, Burn—Pratt CommDesign students established rules and then co-created letterforms.
Wordbuild OILY from Helen Armstrong on Vimeo.
wordbuild FUSE from Helen Armstrong on Vimeo.
wordbuild BURN from Helen Armstrong on Vimeo.
Wordbuild SILO from Helen Armstrong on Vimeo.
---
Instructions for the workshop were as follows: 
Working in groups, pick a word out of the hat.
Using the letter templates pick two of the provided materials to build your word in a fresh way.
Establish clear rules for how to use the materials in your composition.
Working as a group, start following the established rules to rapidly fill in your letterforms. When you hear the signal, move to the next station, read the next team's rules and begin completing their word by following their rules.
---
Interested in leading a participatory letterform building exercise yourself? Here's a list of random words to get you started: wordsinahat_001
---
WordBuild Contributors
Melissa Berman
Gizem Serifoglu
Qian Gao
Laura Bevilacqua
Nadia Izazi
Saana Hellsten
Annie Sexton
Caroline Wurtzel
Caroline Matthews
Jain Preeti
Kristen Myers
Rob Wilson
John Lunn
Xinyi Li
Jillian Barkley
Laurie Duggins
Xiaoyi Chen
Melissa Miyamoto-Mills
Special thanks to all our Pratt participants! These participants have special rights, as co-creators, to use the artwork for both commercial and non-commercial purposes.
Please contact Helen Armstrong armstrh@miamioh.edu to make any edits to our participant list.
---
WordBuild by Helen Armstrong; Zvezdana Stojmirovic is licensed under a Creative Commons Attribution-NonCommercial 3.0 Unported License.
In other words, you may use these videos for non-commercial purposes as long as you attribute the creators.