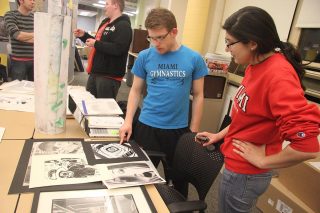 Students who are designated as Graphic Design pre-majors (those who have gone through a preliminary departmental review), School of Fine Arts undecided students, other Miami majors or external transfer students submit a graphic design portfolio in March of the spring semester. For the majority of the students this is at the close of their first year. Graphic design faculty review these portfolios and then interview potential applicants to the Graphic Design program.
We accept around 20 students a year. Students who are not accepted can reapply the following year. Many of these return applicants build their portfolios further and are accepted that next year.
Here's the thinking behind this system:
Because we accept only 20 a year, studios maintain a strong student/faculty ratio and we are able to guarantee placement in all required graphic design courses.
Waiting a year to evaluate work gives all students a chance to build their portfolios, regardless of the strength of their high school art programs.
If a student either does not get into the graphic design program or decides to major in something else, art courses taken freshmen year can be applied toward another major, either as electives or required courses depending on the major.
Some schools handle the need to limit studio size differently. They accept students directly into graphic design programs, but then cull extra students out through excessively rigorous coursework their freshmen year. We don't agree with this philosophy. Students who don't make it through the first year at such schools end up with wasted course credits, poor GPAs, and low spirits.
How the Portfolio Review Process Works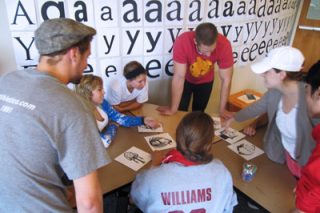 The portfolio review is a two-stage process consisting of a first round screening review and a second round of personal interviews. Students will submit their portfolios, including artwork, their design journal, and a current Degree Audit Report (DAR). Portfolios must be submitted digitally as a Behance website. A link to the site must be provided and a PDF of the applicant's DAR uploaded via the online portfolio submission page. Portfolios and materials must be submitted before 12:00 p.m. Eastern on March 20, 2017. No late submissions will be accepted.
The first round (closed screening) will take place over Spring Break and conclude on Monday, March 27. A sign-up sheet for selected applicants will be posted on the wall outside of the Art Office no later than 5 p.m. Applicants who are selected will participate in the round of interviews with Graphic Design Faculty the evening of March 28.
The second round of 15-minute personal interviews will take place in Hiestand Hall (room to be decided and will be posted) during specific time slots indicated on the sign-up sheet mentioned above. This phase of the process can stretch over two or three days.
Notification of acceptance status will be by letter or email from the Graphic Design faculty no more than a week after interviews are completed.
Outcomes of the Review
Current graphic design pre-majors accepted into the program will attain full status as BFA graphic design majors.
Current BFA studio majors or Art Education majors accepted into the program will have their status changed to BFA in graphic design.
Students classified as College of Creative Arts Undecided, non-major Miami students, and external transfer students who are accepted into the program will be reclassified as BFA in graphic design and will not be required to participate in the Department of Art's BFA Transfer Portfolio review.
The faculty will notify the Registrar to add all accepted students into the appropriate second year courses in Graphic Design.
Current graphic design pre-majors not accepted into the program will be reclassified as BFA studio majors for advising purposes.
The faculty in Graphic Design may make recommendations to the Department of Art's Undergraduate Admissions Coordinator on behalf of School of Creative Arts Undecided students, non-major Miami students, and external transfer students not accepted into the Graphic Design program to be granted BFA studio degree status.
College of Creative Arts Undecided students, non-major Miami students, and external transfer students not accepted into the Graphic Design program and not granted BFA studio status may obtain BFA studio status by participating in the BFA Transfer Portfolio in the next academic year.
Resubmission of the portfolio in the following year by students not accepted for admission to the graphic design program must be approved by the design faculty. It is recommended students repeat ART151 in this case but it is not mandatory.