We're Hiring: Instructor or Visiting Assistant Professor
We are hiring an Instructor or Visiting Assistant Professor position in Communication Design. This will include opportunities for teaching in our undergraduate programs—including the BFA in Communication Design, the Communication Design Minor, and possibly the Experience Design MFA. This position involve teaching 3-4 courses per semester for the 2017-2018 academic year (fall and spring semesters). If you are as excited as we are about creating a meaningful environment for learning design, we invite you to apply.
---
Full Job Posting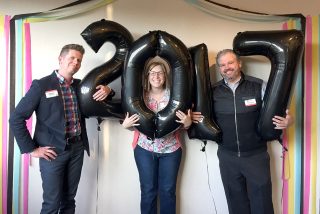 Art: Instructor/Visiting Assistant Professor in Communication Design to teach undergraduate courses in the communication design major and/or minor with the possibility for graduate teaching in experience design; advise students in the graphic design program major and/or minor; committee work; some facility supervision and equipment management.
Required: Bachelor's degree in graphic design or a related degree and at least five years of experience in design or related field. For appointment as Visiting Assistant Professor: terminal degree in graphic design or related field (Master of Fine Arts or related degree). Desired: expertise in interaction design software and teaching experience. Miami University will not sponsor for H1B work authorization for the 2017-18 year.
Submit cover letter, vita, teaching philosophy and writing sample to https://miamioh.hiretouch.com/job-details?jobID=4245. Inquiries may be directed to Sharon Henrichsen at (513) 529-2900. Screening of applications will begin June 12, 2017 and continue until the position is filled. Miami University, an equal opportunity/affirmative action employer, is firmly committed to multicultural environment and strongly encourages applications from minorities, women, protected veterans and individuals with disabilities. Miami University does not permit and takes action to prevent harassment, discrimination and retaliation on the basis of sex (including sexual harassment, sexual violence, sexual misconduct, domestic violence, dating violence, or stalking), race, color, religion, national origin, disability, age, sexual orientation, gender identity, pregnancy, military status, or veteran status in its application and admission processes, educational programs and activities, facilities, and employment practices. Miami University immediately investigates and takes disciplinary and/or remedial action when appropriate. Requests for all reasonable accommodations for disabilities should be directed to ADAFacultyStaff@miamioh.edu or by phone at (513) 529-3560. Miami University's Annual Security and Fire Safety Report with information on campus crime, fires, and safety may be found at: http://www.MiamiOH.edu/campus-safety/annual-report/index.html. Hard copy available upon request. A criminal background check is required. All campuses are smoke- and tobacco-free campuses.
---
Apply
Visit Miami University's Hiretouch job postings site for more details and to apply.